Here's What's Great about Made to Measure Shirts
What's the number one reason Axel's has begun offering Made to Measure shirts? Flexibility. There are a lot of good things about Made to Measure shirts—custom design, personalized measurements, competitive price—but when we consider all of the advantages MTM ordering offers, flexibility is the recurring theme. 
Perhaps the greatest advantage, for us and for you, is the flexibility of the ordering process itself. First of all, it happens when you want it to. No waiting for seasonal collections to arrive, and no worrying about whether we'll sell out of our inventory. It's frustrating when demand outpaces our inventory, especially because reorders are not always possible. Made to Measure shirts cannot run out of stock because they aren't made according to projected demand—they're made when you ask for them. Yes, that means a bit of a wait (4-6 weeks), but to be fair we order our seasonal collections twice that time in advance. It will never be more than 6 weeks before your shirt is in your hands. And we get to add new fabrics whenever we want, so you don't have to wait until next season to see fresh options.  
Speaking of fabrics, we currently have available more than 50 hand-selected options from some of the top mills in the world. They come at a very competitive price—some cost half as much as off-the-rack shirts—and the top-end fabrics compare well against any brand-name materials. The production quality is uncompromising as well: our Made to Measure shirts come from the same maker as all of our Axel's-branded shirts. Each one is crafted with twenty-two stitches per inch all throughout, and the sleeve settings, collar, buttonholes, and gussets are sewn and set by hand, ensuring more durability, elasticity, and comfort than mechanical seams. 
Why so much attention to fabric? Our thinking is this: even in a shirt that's made to fit you just right, which you've designed to look just the way you like it, fabric is the biggest difference-maker. More than any other factor, high quality fabric is what makes a shirt comfortable, durable, and enjoyable to wear. At a time when most of the industry has underemphasized fabric quality as a cost-cutting measure, we are happy to do things differently—and the results speak for themselves. Quality shirts look better in part because they feel better to wear, and that feeling lends itself to a comfortable, confident, attractive appearance.  
All of that said, let's not overlook the fact that you can get a tailored-fitting shirt simply by entering your personalized measurements—we've created a detailed self-measuring guide to help you attain the best possible fit for your new shirt. Our in-house tailor also will be available to answer any questions or requests you may have. If you already know that you like the cuts of Axel's shirts, you don't need to bother with the custom measurements (or you can simply request a few small tweaks to get the perfect fit)—just request your size and choice of regular or athletic fit.  
All other major features of the shirt—collar, cuff, placket, pocket, monogram, etc.—are customizable to your taste as well. Luxury doesn't have to be exclusive. It's your vision, and we have the resources and expertise to make it happen. Let's create your new favorite shirt today.

We offer a lot of options. Our goal is to help find the right one for you. Made to measure shirts are a practical, modern, and price-efficient way to get an elegant look and fit.
Made to measure shirts boast impeccable fit and quality at a competitive price they offer unique flexibility in construction and appearance—because you design them. It's your vision, and we have the knowledge and resources to make it happen.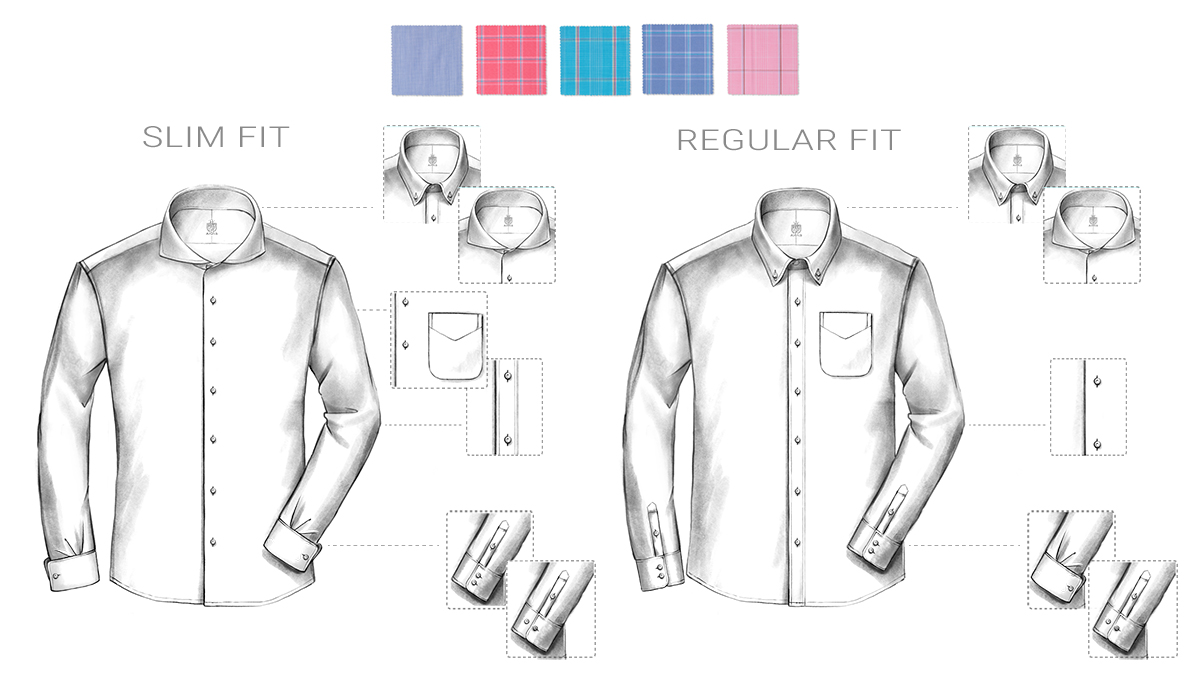 Fabric is the starting point for your shirt's unique look. In addition to stylish patterns, our fabric recommendations prioritize quality. More than any other factor, high quality fabric is what makes a shirt comfortable, durable, and enjoyable to wear. To us, this is a simple but important truth, and we've made it the first part of our process for a reason.
At a time when most of the industry has underemphasized fabric quality as a cost-cutting measure, we are happy to do things differently—and the results speak for themselves. Quality shirts look better in part because they feel better to wear, and that feeling lends itself to a comfortable, confident, attractive appearance.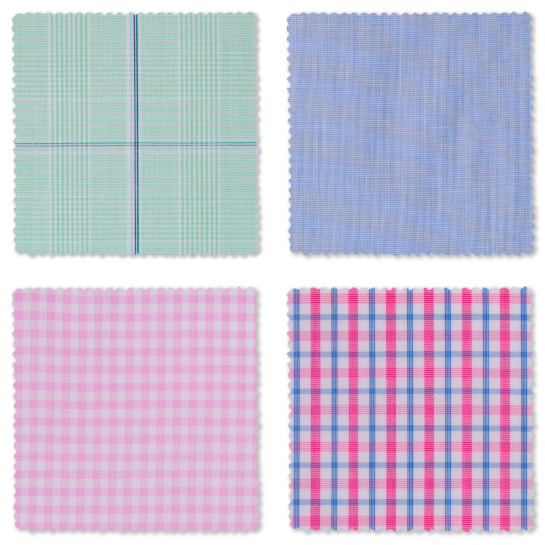 Size, Fit & Custom Measurments

These sizes are the same as those used in all Axel's Signature Collection shirts.  You may add custom measurements for any or all of the following: collar size, sleeve length, shoulder width, and shirt length. It is ok to leave fields blank. Blank fields will use the default measurements for your selected size. Our self-measuring guide can help you determine your unique measurements.
Fit determines how trimly the shirt's body and sleeves follow the lines of your form. Slim fit has a modern, athletic silhouette, while Regular follows a straighter, more traditional tailored cut. Fit choice does not affect custom measurements.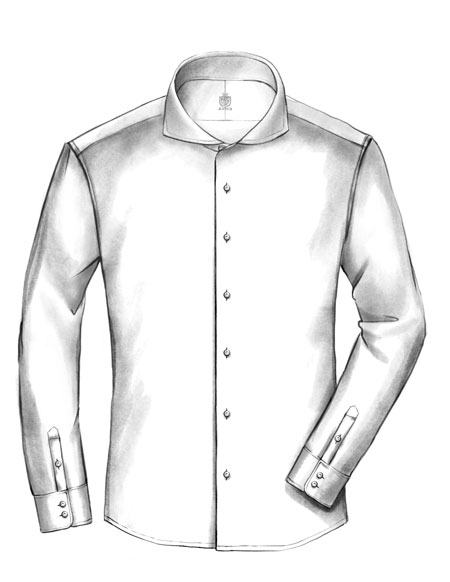 Athletic fit: contemporary interpretation of the classic cut; trim fit subtly accents wearer's profile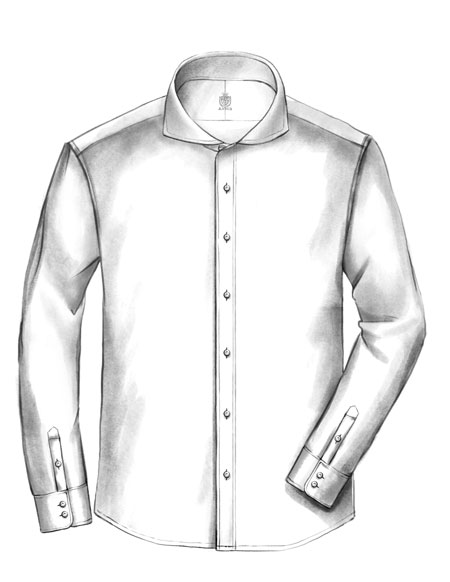 Regular fit: traditionally inspired cut; asserts a straight, clean, mature silhouette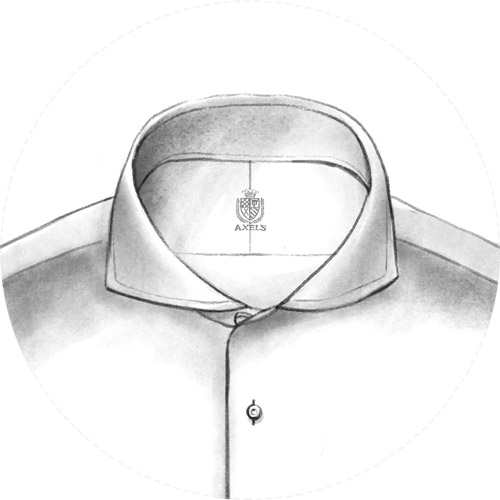 Spread Collar: Also known as the cutaway collar, the spread collar is associated with British style much like the button down is with America's. Its origins are more formal, but the spread can also add some rakish elegance to a casual look.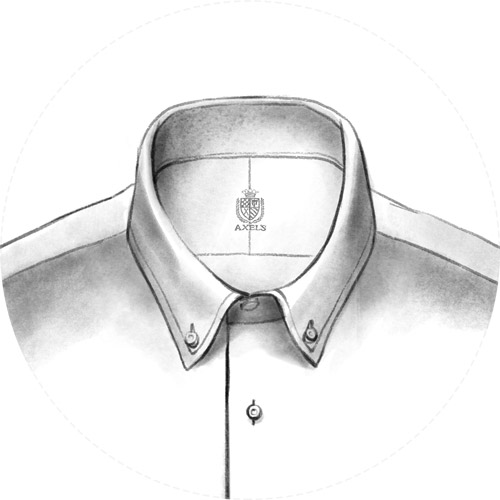 Button Down Collar: Inspired by polo players who buttoned down their collar to keep them from flapping around while riding. Popularized in the 1950s, it remains an iconic American look and a staple of casually graceful style.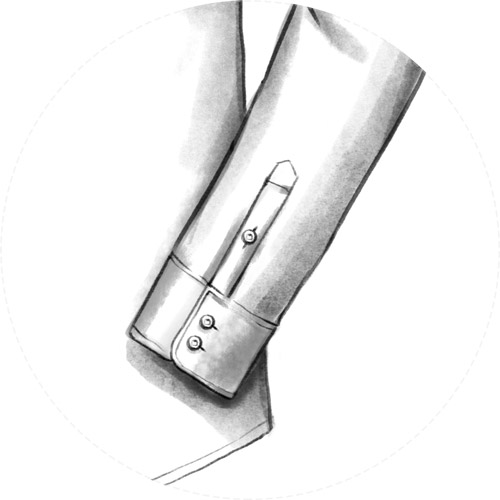 Two-Button Barrel Cuff: originally designed for doctors, who needed to dress sharply while still easily rolling up their sleeves (and not worrying about lost cufflinks). It also better accommodates large wristwatches. Not informal, but certainly less formal and more versatile than the French cuff.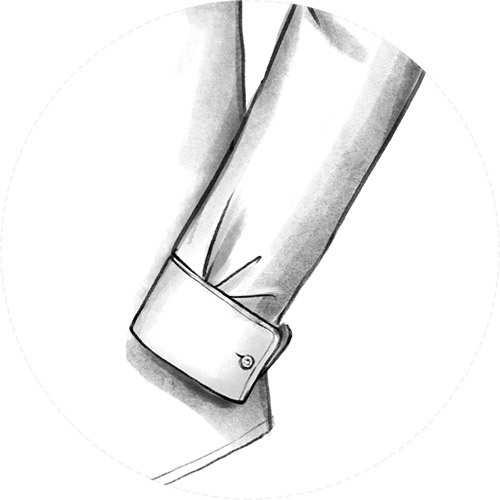 French Cuff: distinguished by the use of cufflinks instead of buttons, the French cuff suggests a more formal look. Like the Spread collar, of course, it can be used casually to create a tasteful contrast.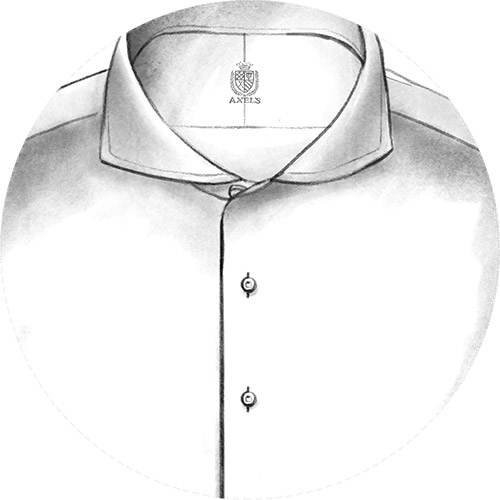 French Front: the French front foregoes the placket, allowing a clean appearance that lends itself to formality as well as good-spirited irreverence (not to mention easier ironing).
Placket: the placket is an extra piece of fabric sewn down the shirt's face that creates a linear, centered visual balance. Complements lighter fabrics better than heavy ones.

Generally, pockets are associated with a lesser degree of formality, while pocket-less shirts more often accompany suits.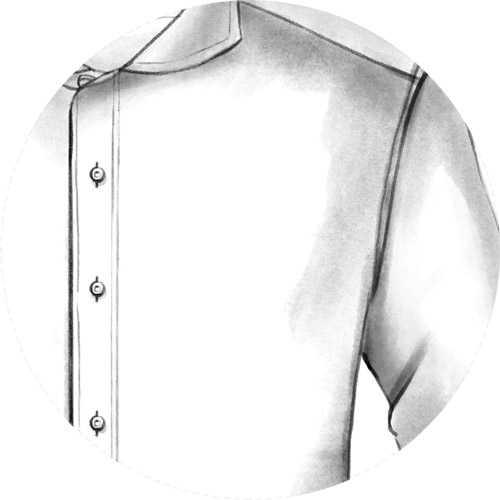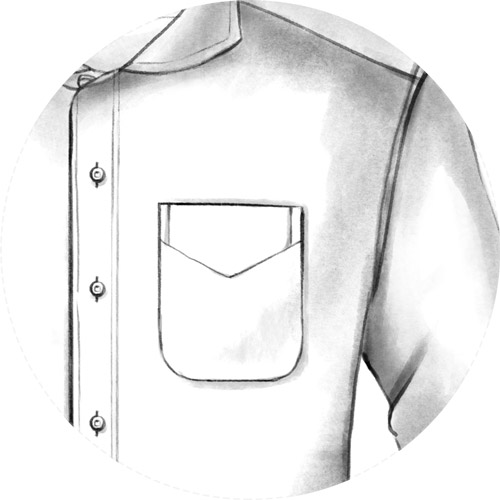 To get the most accurate measurements, stand in a relaxed and natural posture. This is how you stand at an evening-long cocktail party, not how you pose in front of a mirror. Unless otherwise directed, hold the measuring tape firmly, but not tightly, against the skin. It's also fine to measure over a T-shirt, but anything bulkier will distort results. It is ok to round up to the nearest half-inch, but please do not include additional inches (unless otherwise directed). Different measurements have different standards for additional inches of fabric—we will account for those.
Standard shirt sizes (S, M, L, etc.) offer a useful starting point—see the size chart below for reference. Take note of any issues you have with your normal size, and direct extra attention to these measurements. For example, if you typically wear a size Large but often find your sleeves a bit too short, your arms might actually be 36 inches long. Let us know, and we'll get your custom fit just right. Next we'll cover how to conduct each measurement.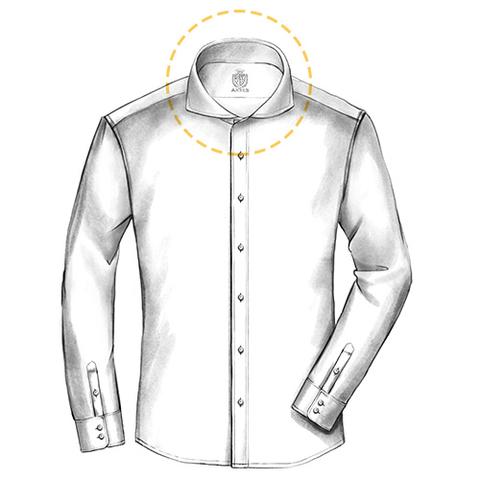 The Collar
Lay the measuring tape just above the collarbone, measuring the circumference of the neck and leaving enough slack in the tape to fit one finger (~¼ inch) between the tape and skin.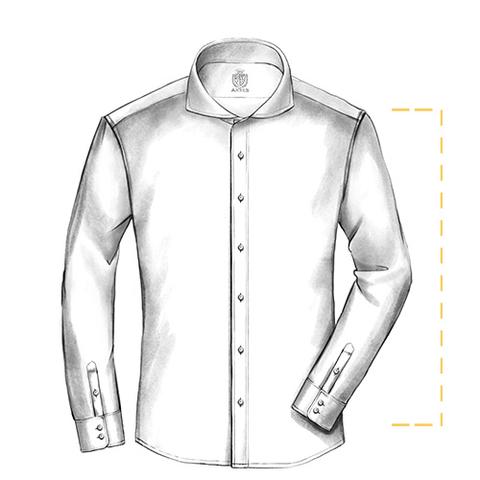 The Sleeve
With arms relaxed and at one's side (natural bend is ok), measure from the top of the spine (where the neck meets the back) to the tip of the shoulder, continuing down the arm, and stopping midway between the wrist and the thumb's MP joint (middle of the thumb's three joints). Sleeve length is a difficult self-measurement, so it may be helpful also to measure the length of a shirtsleeve known to fit well. Measure the shirt the same way as before: middle of the collar to the seam of the shoulder, continuing down to the tip of the cuff. For a shirt you primarily intend to wear with a coat, add ¼ inch to this measurement so that the cuff will show appropriately.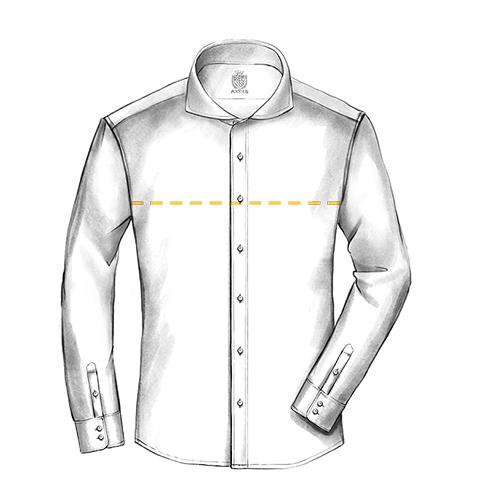 Chest
Place the measuring tape level with the sternum, measuring the circumference of the chest. This measurement should be firm—not leaving slack like the collar, but not constricting the chest either.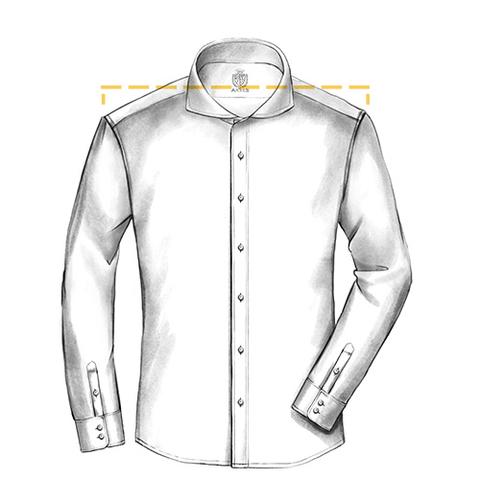 Shoulders
The shoulders are measured similarly to the sleeves. The tape measure should make a line, point-to-point, from the tip of one shoulder to the other, with the top of the spine as the middle point. Shoulder shape and slope can vary—those with sloping shoulders or high, almost shrugging shoulders should make a note in the "Custom Sizing Preferences" section.

We'll work with you every step of the way, taking the time to get it right from first cut to last. We'll walk you through a seven-stage design process covering broader questions, such as fabric, fit, and sizing, and more specific detailing such as cuff, collar, pocket & front styles. Our hope is to offer our technical and stylistic knowledge as a guide, informing—not directing—your selections.
The design and ordering process can take as long as you'd like. Production and delivery, from click to cut to doorstep, typically takes 4-6 weeks. It's worth the time—your custom shirt will be made with quality and style to last through the years. All MTM shirt sales are final. 
---