CRAFTSMANSHIP | MATERIALS | INDIVIDUALITY
Whether you're newly interested in buckles or a long-time enthusiast, this overview is for you. Look inside for style-tips, craftsmanship insights, and things to consider when acquiring a new buckle.
Belt buckles are special items. They aren't quite what comes to mind when you think of jewelry, but neither are they simple accessories. Buckles are a unique way to express your style and accent your look, and they're also a one-of-a-kind heirloom piece to pass down through the generations.
We are proud to carry a wide array of old-world crafted belt buckles, ranging from traditional Western styles to understated Americana to specific sporting motifs. We put together this post with new buckle-buyers in mind, but longtime enthusiasts may also be interested in the craftsmanship spotlights, style notes, and custom design options detailed here.
Historic Craftsmanship
Each of our buckles is sawn, soldered, arranged, and engraved entirely by hand using techniques passed down through the generations. This 'no shortcuts' approach means that every buckle is of exceptional quality, and it allows the hands-on freedom to make each piece entirely unique.
For example, James Stegman of Comstock Heritage silversmiths often likes to use subtly asymmetrical patterns to distinguish his creations from machine productions. Many other Comstock pieces feature extensive burnishing or intentional craftmarks to lend a worn-in, even historic quality. James is also known to engrave the backs of his buckles with designs that can't be seen while the buckles are worn… a sly wink from artist to owner.
We love the historical, authentic ambience that comes from these artisanal origins. Some of the most appealing things about these buckles are their incredible character, depth, and texture. They are wearable history, from the generations-old silversmiths that make them to your own personal and family history.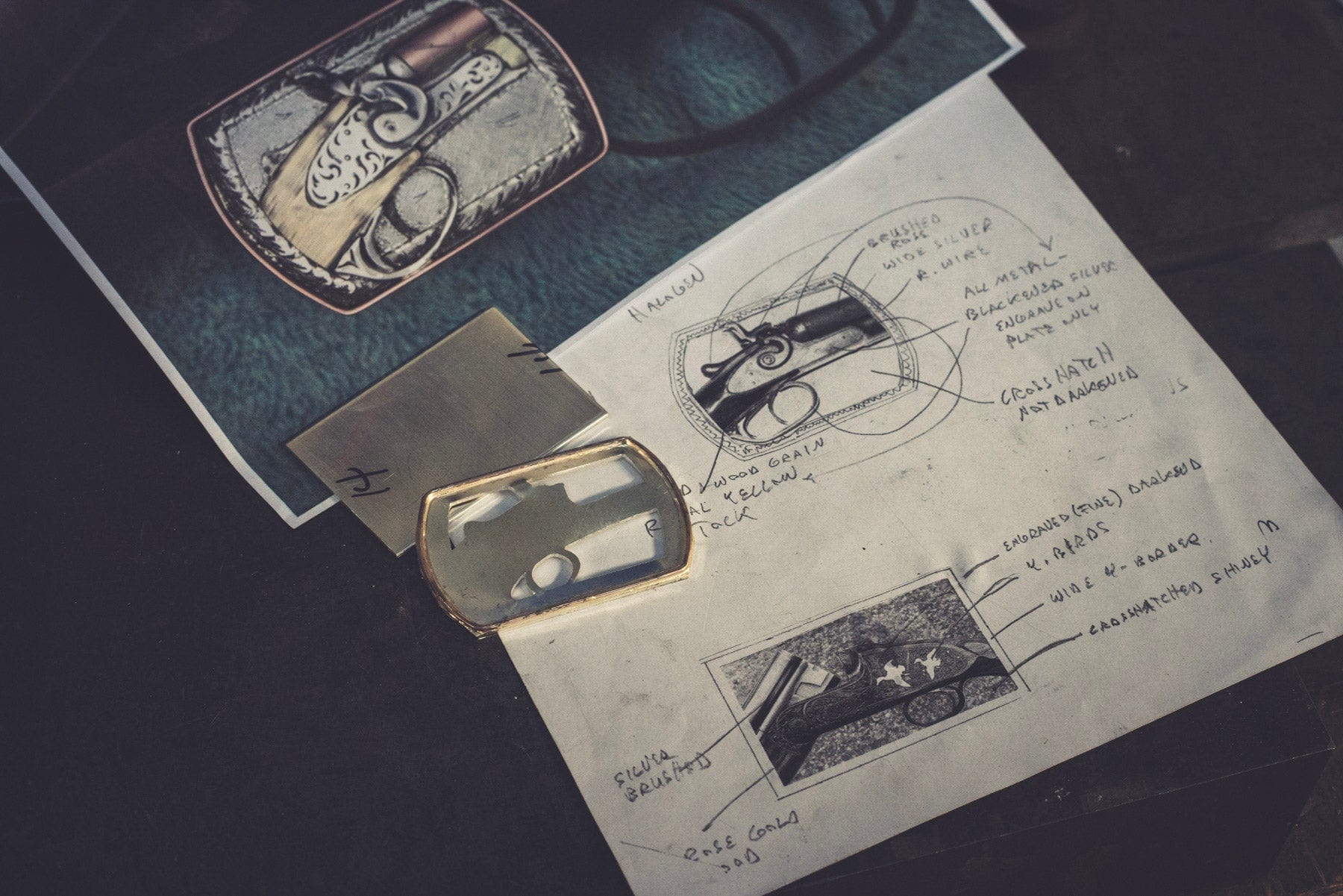 Finding Yours
Your reaction to the buckle is important. There are a lot of ways to narrow down your options, and instinct is one of the biggest. Personal taste and style preference often express themselves reflexively. Your intuitive response when viewing a piece for the first time—before anyone tries to convince you what you should think—can be more telling than any other guide.
Listen to what your "gut" tells you as you see each buckle, and consider also what you'd like to express. Are you memorializing something in particular, such as a sporting or recreational passion? Or do you want to convey a broader aesthetic sense, like Western tradition or Americana style?
The METALS
When considering the metals in a buckle, we encourage focusing on color, tone, and general appearance. The truth is, buckle makers don't use certain metals over others for their price or perceived status. Why use 18k gold with a sterling silver backing when 14k looks just as good in that setting?
Gold comes in so many beautiful, natural shades—rose, yellow, green—that it can express an incredible variety of moods and styles. Similarly, if you're into an understated, Americana sort of style, some of our distressed sterling silver buckles may convey that look more to your liking than any others.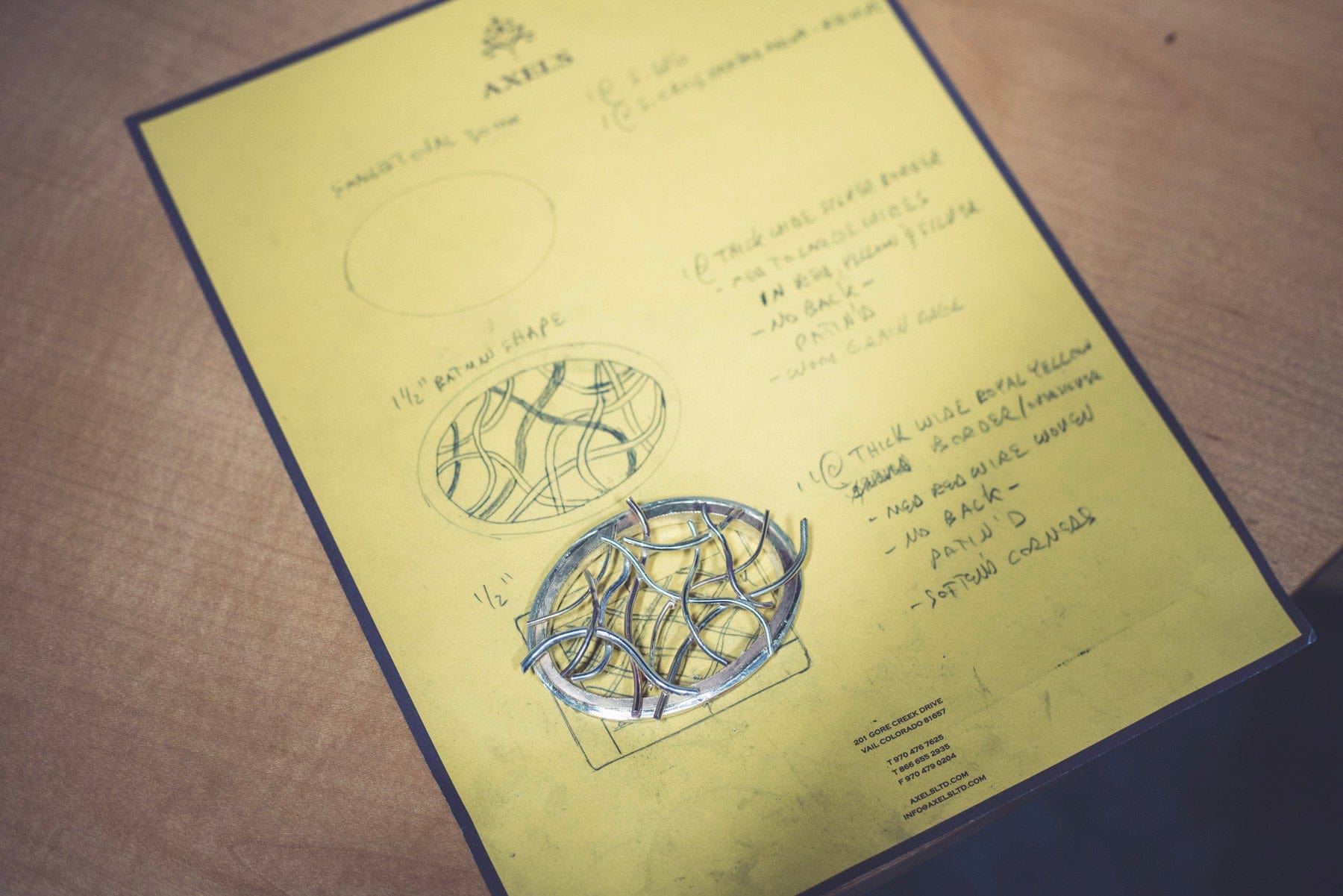 DON'T FORGET A BELT STRAP
Every belt buckle needs a belt. Buckles of this quality look good with virtually any belt strap, but it's not a bad idea to have several straps in your quiver. First, the strap's color, skin, and width all affect the buckle's tone and look. For example, a matte black gator belt can accentuate a sterling silver buckle's polished shine through contrast, while a rich brown calfskin strap may complement distressed gold's similar color palette. We have over 1,100 straps in stock, so there is no shortage of options for style pairings.
There are some factors to consider which may help narrow down your search. Most belt straps come in one of two widths: 1.25" or 1.5" for men, and 2.5" or 3" for women. Many of our buckles are made to fit either size, but some are specifically designed for one or the other. Each buckle's description should indicate the strap width it is made to accommodate, but don't hesitate to get in touch if you have any questions. For the buckles that fit either width, as noted above, the strap's width certainly contributes to the overall mood. There is no strict rule for this obviously, but understated buckles generally work well with narrower straps, and more prominent buckles typically go with larger straps.
Considering the other leather pieces—shoes, watchband, etc.—you often wear can help narrow down your choice(s) of strap. While excessive matching can be a turn off, brown and black leathers should have a certain degree of color correspondence. Simply put, each leather piece should be of a fairly similar shade. While the shades need to align, the skins do not, so mixing up the types of leathers in an outfit is a good way to avoid matching too much—as is incorporating some of the more colorful options we carry.
CUSTOM DEIGNS & CONSULTATIONS
A belt buckle is the ultimate gift—it's hard ever to find something this uncommonly cool. The guy or gal who 'has everything'… doesn't have everything yet.
James' mindset—modern creativity balanced by an appreciation of tradition—has a number of affinities with ours, and we are fortunate to enjoy a close relationship with James and Comstock. This has enabled our working together to interpret a variety of inspirations through our shared aesthetic lens, creating a diverse collection of buckles to explore and express our style.
We are grateful to enjoy strong relationships with our buckle makers. Axel's own buckle expert Mike Letourneau proudly has worked with Comstock to develop specialty designs for our collection. He is available for consultations with those who may be interested in commissioning their own custom-designed buckle, as well as to answer questions and offer suggestions.