Outfit #1 -- Don't Overthink It
Sometimes the obvious choice is obvious for a reason—it's right.
Wearing a traditional look shows a sense of respect, humility, and appropriateness, all of which help make a good impression. It communicates a good sense of restraint—against fads, groupthink, excess, what have you. Of course, none of that means we can't have a little fun and show some personal style.
It's good to keep things fresh with a bit of softness, creativity, and tasteful imperfection. They remind us not to take things too seriously. Besides, summer is a time for lively colors and laidback attitudes.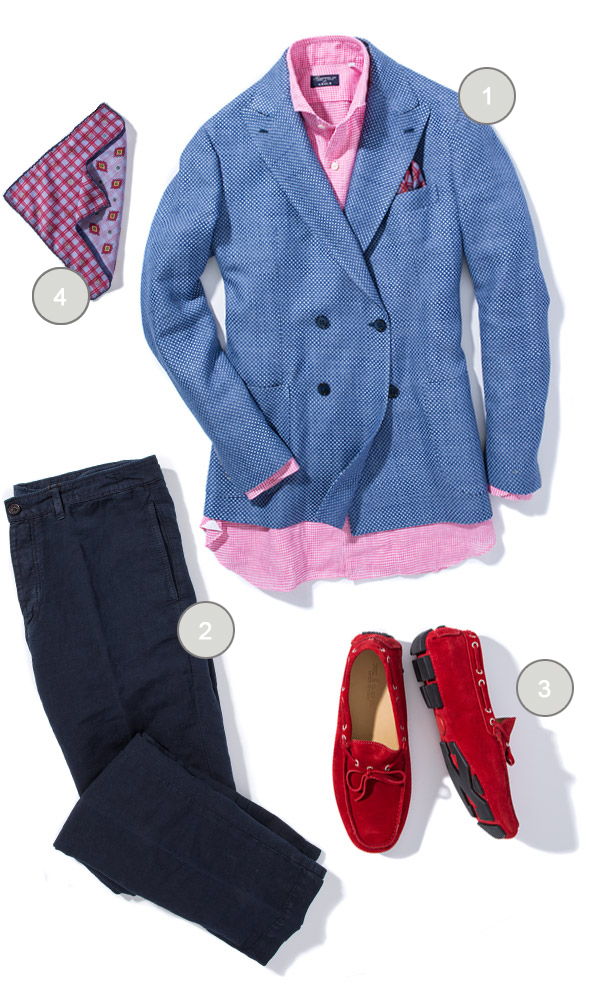 1. G.abo Prato & Finamore Olbia
Pairing a Finamore sport shirt and an unconstructed jacket from G.abo achieves this look nicely. Both combine traditional style and a playfully creative edge, suiting them well for light-hearted but presentable summer looks.
2. The Gustavo Trousers
Massimo Alba's linen trousers are a great complement, especially for summer trips. Made from 60% linen and 40% cotton, they hold their shape very well and are actually washable, so you can travel with them without worrying about finding a dry cleaner.
3. Kiton Drivers
I like Kiton's driving shoes a lot for summer outfits. They carry vibrant color better than most shoes, and their elegant construction enables them for a range of settings. Not for nothing, they're very comfortable too.
4. The Pocket Square 
A pocket square is a simple but impactful way to accent your look. Pocket squares set off a lively ensemble's color as well as they add variance to a more understated outfit, and they also add a hint of rakish elegance to any appearance.